Wisdom and Wine imports fine wines from France. Our goal is to identify and provide imported wines that are:
Excellent quality
Keenly priced
Not available in large chain stores.
Our producers are from:
Burgundy
Chablis
Champagne
Alsace
Northern Rhône
Southern Rhône
Provence
Latest News
2020 Besson Chablis a Winner
The 2020 Besson Chablis has been an outstanding success - great flavour profile, another extraordinary wine from one of the brightest stars in Chablis!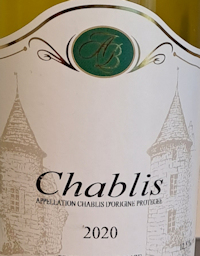 Another shipment of the 2020 Chablis is due to arrive early in March - watch out for it!
The wine has been highly rated the Decanter magazine.
The most recent shipment sold out if a few weeks but there is more on the water at the moment!
Besson Chablis Finally Arrives!
We have finally taken delivery of two pallets of fine wines from Domaine Besson in Chablis. The delivery include the last bottles of the 2019 vintage. The world wide chaos is increasing our costs and making it difficult to secure wine in a timely manner.
The 2020 Besson Chablis will replace the 2019 later on in the year. This shipment includes:
2019 Besson Chablis
2019 Besson Chablis 1er Cru "Montmains"
2019 Besson Chablis 1er Cru "Vaillons"
2019 Besson Chablis 1er Cru "Mt de Milieu"
2019 Besson Chablis Grand Cru "Vaudesir"
2019 Besson Chablis Grand Cru "Les Clos"
2020 Besson Chablis 1er Cru "Montmains"
Quantities are extremely limited in each case.
The next shipment is due to leave France in early August.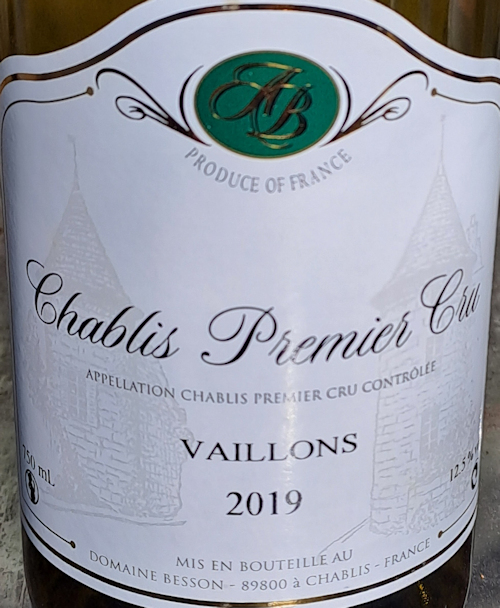 2020 Domaine Pélaquié Côtes du Rhône
This wine is a delight to drink - enjoy it with charcuterie or grilled meat.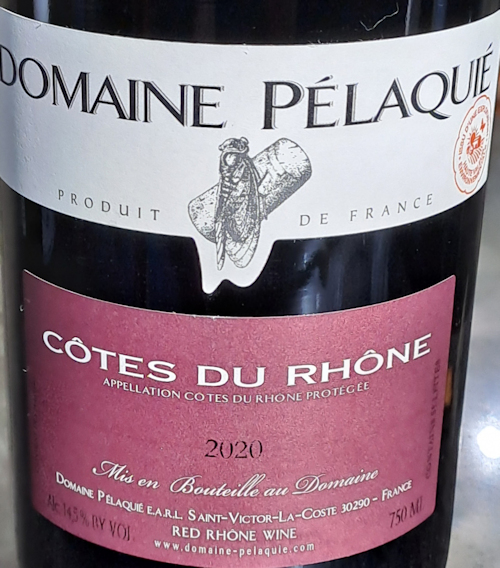 2017 Besson Chablis Grand Cru Vaudésir
The 2017 Besson Chablis Grand Cru Vaudésir is not to be missed - an outstanding wine from one of Chablis' rising stars.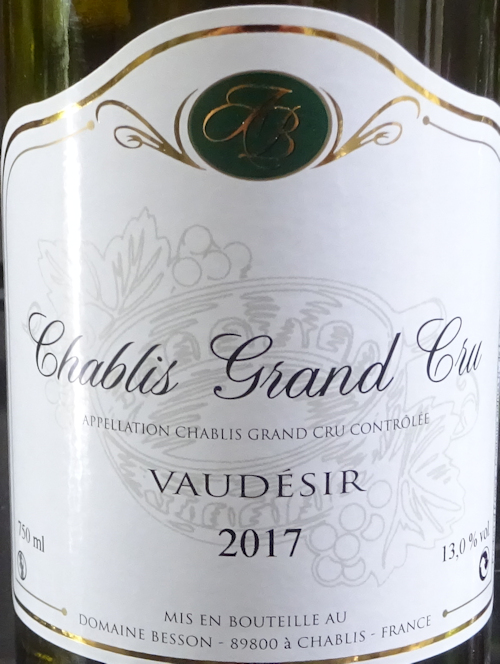 January, 2021 Arrivals
We received delivery of:
Domaine Besson, Chablis

2019 Petit Chablis
2018 Chablis
2018 Chablis 1er Cru "Montmains"

Chateau de La Chaize

2018 Côte de Brouilly
2018 Brouilly
2018 Fleurie
2018 Brouilly Lieu-dit "La Chaize" Monopole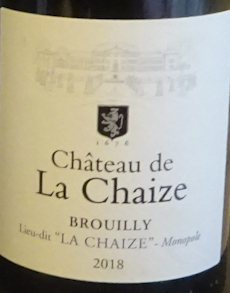 November 2020 Arrivals
The following wines from Domaine Jessiaume in Santenay arrived late November:
2017 Beaune 1er Cru "Les Cent Vignes"
2018 Beaune 1er Cru "Les Cent Vignes"
2018 Pommard "La Combotte"
2018 Santenay 1er Cru "Les Gravières"
2018 Volnay 1er Cru "Les Brouillards"
2017 Volnay
2018 Volnay
September 2020 Arrivals
We have just taken delivery of:
Domaine Besson, Chablis

2018 Petit Chablis
2018 Chablis
2018 Chablis 1er Cru "Montmains"

Chateau Routas
Chateau de La Chaize, Beaujolais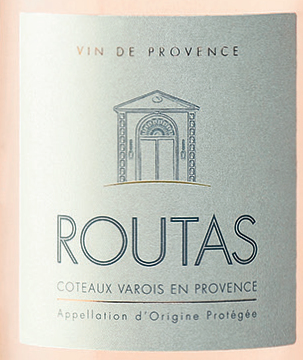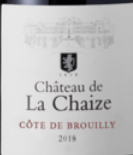 Domaine Jessiaume Wines from Santenay, Burgundy Arrive
Our shipment of wine from Domaine Jessiaume in Santenay has arrived and the wines are now available for purchase.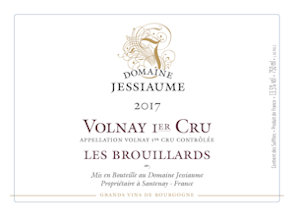 2018 Besson Chablis Arrives
We now have stock of the 2018 Domaine Besson Chablis. The shipment was delayed by industrial action in France but is now in our warehouse and in excellent condition.
Our first quick tasting of this indicates that it is "a knockout". Looking forward to getting it out to our valued clients!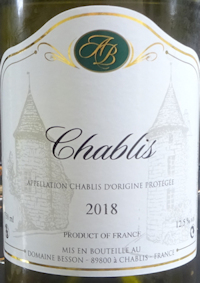 2018 Besson Chablis
We were expecting stock of the 2018 Besson Chablis and 2018 Besson Petit Chablis into our warehouse in the week beginning 23rd March. However, it is subject to a quarantine search and is delayed. Some of the Petit Chablis will feature the label that they use for exports to the USA - see below on the left.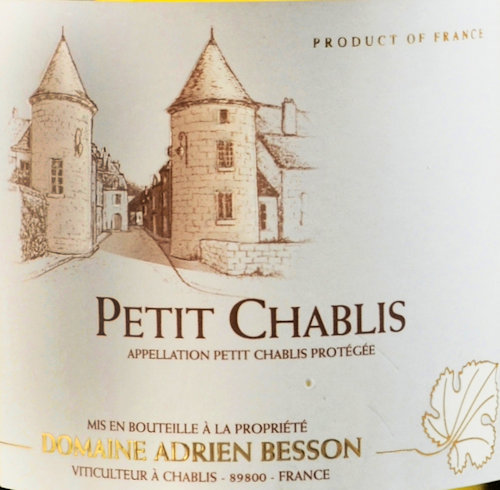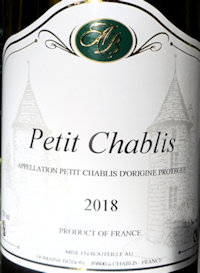 This wine is labelled as "Domaine Adrien Besson". Adrien is the son of Alain Besson and is Camille's brother.
Champagne Fluteau in Magnums, Bottles and Small Bottles
We have limited bottles of Champagne Fluteau available in half bottles, bottles and magnums.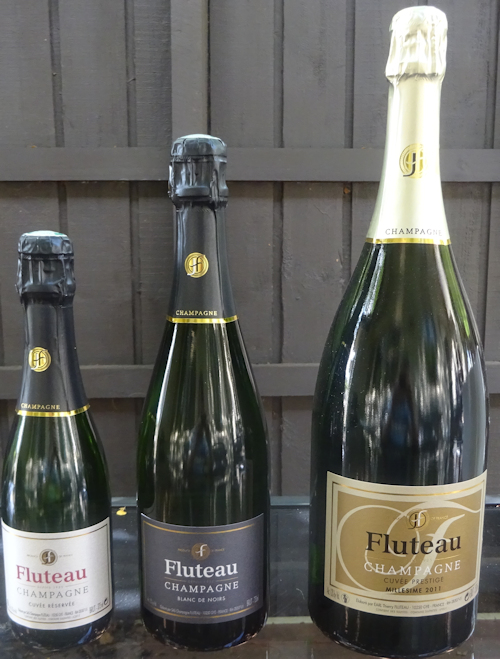 Château Routas Rosé
Our first shipment of Chateau Routas Rose from Provence has proved to be most popular and the 2018 vintage is almost completely sold out. Watch out for the 2019's later in the year!

Promising 2019 Harvest in Chablis
Camille Besson has reported that the 2019 harvest went very well and they collected grapes of very good quality. They suffered a few losses due to the spring frosts but also due to the warm weather during flowering and the lack of rain all summer long.

They estimate losses at around 15% it is not catastrophic and could have been worse.

In summary, it appears that the 2019 vintage in Chablis will be a very good one.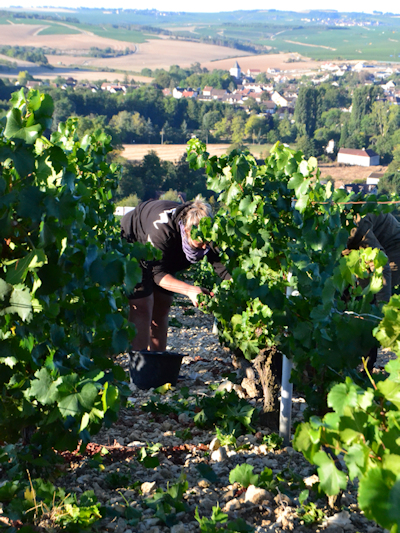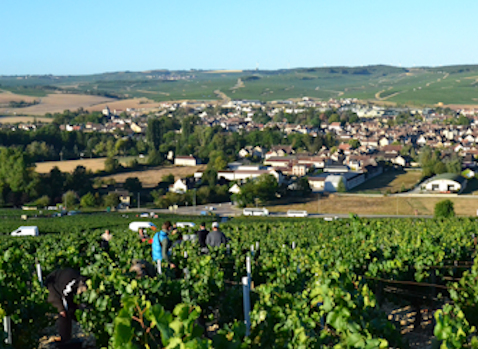 Arrival of Champagne Fluteau
We are delighted to receive our latest shipment of Champagne Fluteau. A quarter of the shipment has already been sent to one of Sydney's exclusive clubs for the enjoyment of the members.
This Champagne continually punches above its weight and is an excellent example of a reasonably priced grower Champagne made by 4th generation winemakers in the village of Gye on the banks of the River Seine.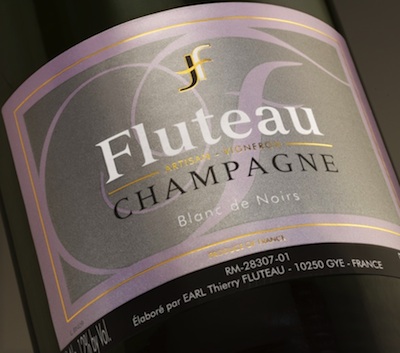 2017 Domaine Besson Petit Chablis
This wine continues to punch above its weight - clean, crisp and elegant. Always a delight to drink.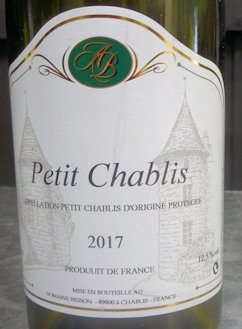 Enjoy it by the glass at Hawthorn's latest exciting eating spot - Mister Sandrino.
Château Routas - new to Australia
The location of Routas is spectacular; in the heart of Provence, equidistant from the French Riviera on the Mediterranean coast and the foothills of the Alps. It is surrounded by tiny medieval villages that cling to steep cliffs and overlooks miles of spectacular hillsides, woods and rivers.
2018 Château Routas Rosé
This delightful Rosé is a blend of 45% Cinsault, 35% Grenache and 20% Syrah from the appellation A.O.C. Coteaux Varois en Provence.
This is an outstanding Provence Rosé - fresh, clean and vibrant. It's full or lively fruit, with a depth of flavour it is elegant and refreshing with a dry finish. A wonderful summer drink.
This is bottled under screw cap.





2017 Domaine Besson Chablis
Camille Besson continues to produce outstanding wine from the Besson family's vineyards in Chablis. The 2017 Chablis is once again a hit with lovers of Chablis.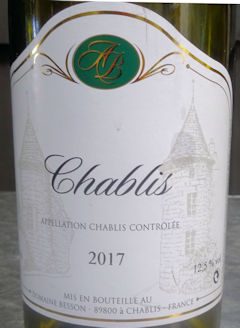 Camille Besson - "Best Young Winemaker in Chablis"
Camille Besson was recently awarded the trophy as the "Best Young Winemaker in Chablis". This is a well deserved award for an outstanding young winemaker.
2016 Domaine Jessiaume Wine Featured in Melbourne and Sydney
The French Australia Chamber of Commerce recently hosted a Grand Tasting of Bourgone Jura wines in both Melbourne and Sydney.
The event included a tasting "Bourgogne Wines The mystery of the Climats". The tasting featured four white and four red wines selected in France to show the differing terroirs. These wines were selected in France without regard to their availability or otherwise in Australia.
The Domaine Jessiaume 2016 Santenay 1er Cru "Les Gravieres" was a highlight of the tasting.
We will have limited quantities of this wine in early 2019.
2016 Besson Chablis Delights
"Electrifying Good Chablis … It's not easy finding Burgundy wines that offer such balance between quality, quantity and value."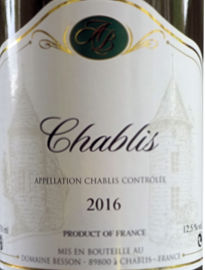 Champagne Fluteau 2008 Symbiose Highly Rated
The 2008 Champagne Fluteau Cuvée Symbiose was chosen by "The WIne Enthusiast" in the USA as one of their 12 Wines of Christmas as their Editor's Choice.
They commented: "A delicious vintage Champagne, it is rich and creamy and a guaranteed crowd-pleaser. Beyond just being an aperitif, this wine will also carry you straight through dinner. "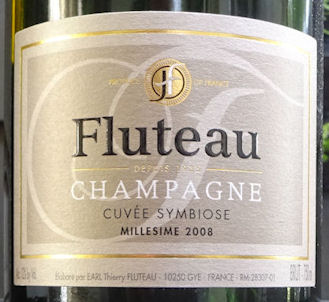 Summer Reds
The wines from Domaine Pélaquié in the Southern Rhône are excellent drinking in the warm Melbourne summer. They can be served slightly chilled and can accompany a range of dishes.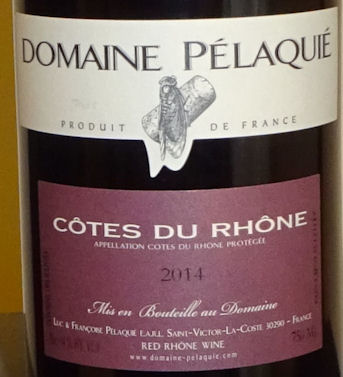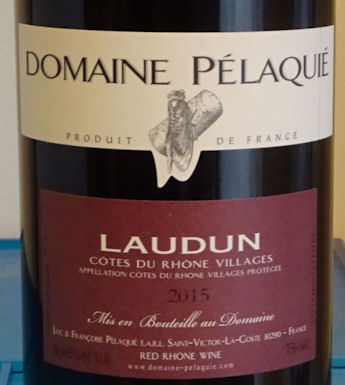 Besson Chablis Continues to Delight
Our range of Chablis from Domaine Besson continues to delight customers in Melbourne. Our 2015 Chablis is almost finished and the 2016 Chablis will be here in the near future. We are down to the last few cases of the 2014 Premier Cru "Montmains" and looking forward to receiving the 2015's.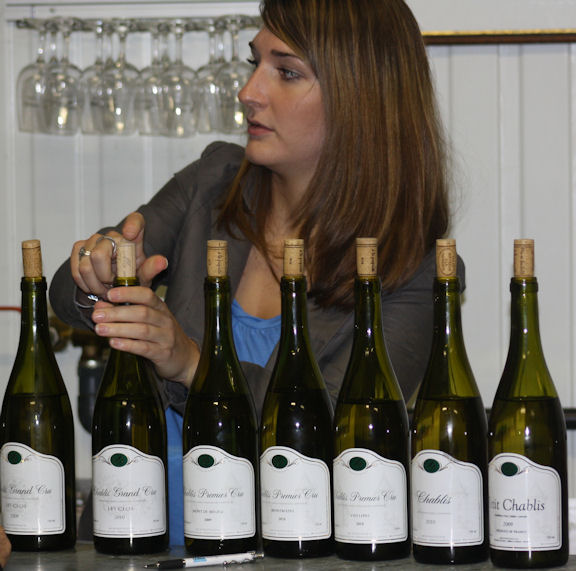 Camille Besson prepares a tasting at Domaine Besson.
Domaine Jessiaume
We recently introduced Domaine Jessiaume to Australia. This Domaine is located in Satenay and produces a range of excellent wines from the Côte de Beaune.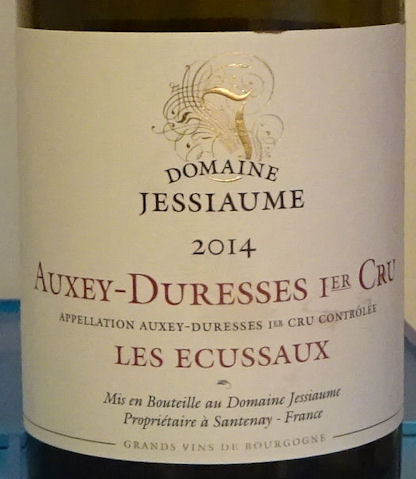 ---
WARNING Under the Liquor Control Reform Act 1998 it is an offence:
To supply alcohol to a person under the age of 18 years (Penalty exceeds $7,000)
For a person under the age of 18 years to purchase or receive liquor. (Penalty exceeds $500)