Château de La Chaize
Tasting Notes
2018 Vintage in Chablis
Camille Besson commented: "2018 – magnificent harvest with ripe grapes and a great quantity – first time I've seen a full cellar, my father mentions 1947 as comparable – but he wasn't born either!"
One commentator noted: "The depth of flavour in Camille's 2018s is more than impressive … there are few like that here in 2018!"
2018 Domaine Besson Chablis
This wine has a vibrant and youthful greenish appearance. It exhibits complex aromas of lemon, ripe apple and melon, supported by pronounced minerality.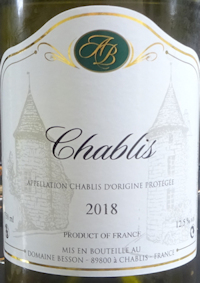 The palate is beginning to show the quality of the vintage with richly textured flavours of lemon and apple and together with a little almond and exotic spices. In particular, the oyster shell, saline characters with that distinctive minerality places this wine in the mainstream of the best Chablis producers. The finish is both long and persistent.

The distinguishing feature of this wine is its inherent finesse and sheer balance. This wine is in a window of optimum drinking right now and will drink well for the next five to eight years or even longer.

This is a sheer delight to drink!
2018 Domaine Besson Petit Chablis
This 2018 Besson Petit Chablis is a pleasing, attractive wine with a pale gold colour and a hint of green on the rim.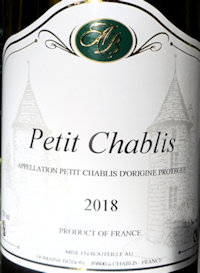 The aroma is rich in complex citrus flavour with apple blossom and distinctive flintiness. There are also pear-like smells that are reminiscent of some of the more minerally vineyards in AC Chablis. In the background the slate and saline of true Chablis shine through.

The palate has a most enjoyable richness supported by a fine line of acidity that continues to the end of the palate.

This is a Petit Chablis with emerging complexity that has immediate appeal but will age well for up to 5 years.

Great value from one of the best winemakers in Chablis!
2017 Vintage in Chablis
The northern part of Chablis suffered very cold weather in April and a significant amount of frost. Some of the vignerons were able to protect some of their crops but there was considerable damage and consequent loss. Parts of Chablis were also hit by hail and mildew.
The growing season was very good and the quality of the grapes that were harvested was particularly high. However, yields were considerably lower than normal but the vintage is regarded as being of excellent quality.
The low yields have put pressure on prices and these have increased significantly.
2017 Domaine Besson Petit Chablis
This Petit Chablis punches above its weight and could well be mistaken for a village Chablis.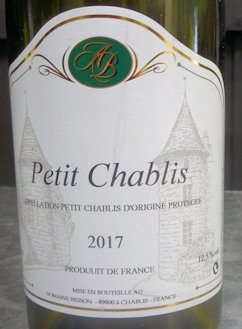 On the nose, the aromas are powerful with a whiff of pineapple among the stone fruits, and some salinity.
The palate is clean with good depth of flavour, including pear and apricot and mineral overtones. The pleasing acidity completes the fine structure of the wine.
With its mouth-filling flavours, a fine balance, good length and persistence, this wine will have great appeal to lovers of Chablis.
The Besson family has again produced a wine that is most enjoyable now but that will also cellar well in the short to medium term.
2017 Domaine Besson Chablis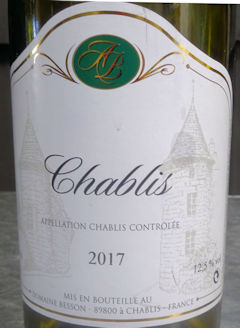 Domaine Besson has been really hitting its straps in recent years producing beautifully balance wine with minerality, salinity and fine acidity. The last four years have been of excellent quality each with their own personality. The 2017 Chablis was a light straw colour with a slight green tinge. It showed minerality and citrus notes on the nose.
The palate provided generous clean fruit with good well-balanced acidity which provided structure, and there were mineral and saline characters there as well. Fine base level Chablis, with good concentration and length. Very clean finish.
2016 Chablis 1er Cru "Montmains"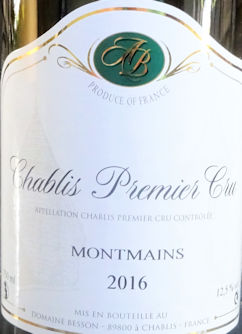 Montmains is to the south-west of Chablis less than a kilometer from Vaillons. It is one of the 40 climats able to be named on the label, one of 24 climats on the left bank of the Serein River. This is a step up in quality on the Chablis. Slightly deeper colour. Enhanced depth on the nose with abundant salinity and minerality. Quite floral as well, with honey also there. Very concentrated palate. Saline and "stony". Delicious to drink. Finer and more precise than the Chablis. Quite concentrated with excellent length and a persistent aftertaste. Quality Chablis.
2014 Vintage in Chablis
The 2014 vintage in Chablis is regarded as outstanding.
2014 Domaine Besson Chablis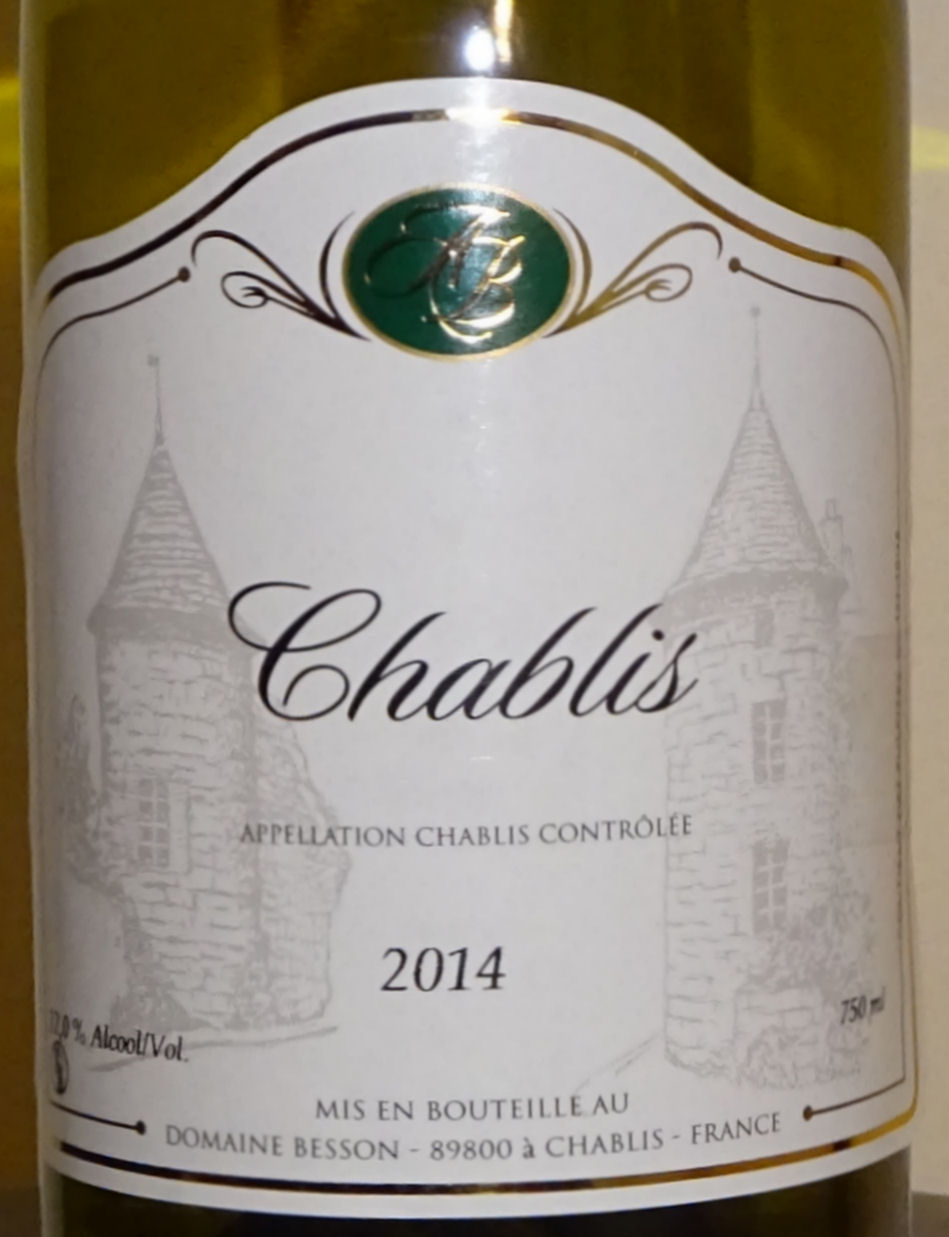 Quite pale in colour with a hint of green on the rim, this has a most attractive appearance.
The aroma is redolent of lemon blossom, grapefruit zest, flint and distinctive minerality. In the background there are some pear and apple with just a suggestion of spice.
The front palate has some underlying richness of fruit which is the feature of this wonderful vintage. That is expressed as lemons and apple with a touch of spice. Some richness shows in the middle palate but then the clean acid finishes the wine with a most impressive lift.
This is a most elegant Chablis with the capacity to evolve into something very special.
Domaine Besson 2014 Chablis 1er Cru "Montmains"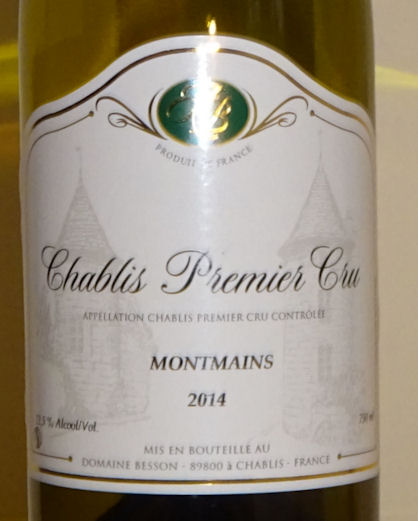 Bright, light, limpid yellow in appearance, the aroma is a thrilling mix of ripe pears and peach that is superbly complemented by smells of herbs, minerals, jasmine and just a hint of spice. In the background some tropical fruits emerge with a splash of lemon zest to add further complexity to a wine that is superbly expressive of the underlying richness of the 2014 vintage.
The freshness of the lemony fruits leads into a creamy mouth feel with overtones of nuts, honey and nectarine. This is all bound up by some very impressive mouth-watering acidity that holds the fruits and the structure of the wine in perfect harmony.
A wine of great purity, concentration and seemingly endless complexities.
The Premier Cru vineyard "Montmains" is on the 'left' bank of the Serein River and is renowned for producing wine of exceptional quality.
Relatively pale in colour, the aroma is quite superb. There is a concentration of ripe citrus fruits, a pear-like character that is very attractive and an underlying minerality which is the hallmark of Chablis.
On the palate, the wine begins delightfully with a rich, yet fine, fruit flavor that is reminiscent of peach and other stone fruits. There is a lovely acid balance with an appealing mouth-feel followed by great length and complexity.
This is a wonderful example of the 2012 vintage with its concentration of fruit and great acid balance.