Domaine A Chopin
Tasting Notes
Domaine A Chopin et Fils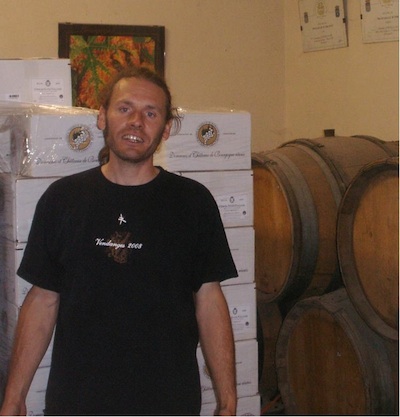 Arnaud Chopin is a dedicated young winemaker located in the small village of Comblanchien, near Nuits-St-Georges.
Each of Arnaud's wines expresses the terroir of the area. His wines are available only in small quantities and we are delighted to once again have a small parcel of them in Australia.
He has a number of very good plots and his wines fly "under the radar".
Arnaud takes great care of his vines and he treats all his wines in exactly the same manner. He says the only difference between his wines is the soil.
The Chopin family has been in Comblanchien for many generations. Arnaud's grandfather, Ernest Chopin, was Deputy Mayor of Comblanchien during World War II and he is referred to in the book " Wine and War ."
The wines have been highly rated by the critics. His 2009 "Les Murgers" was rated 4* and "Highly Recommended" in the December 2011 edition of the Decanter magazine—see below.
The wines are:
2013 Côte de Nuits-Villages "Vieilles Vignes"
This is very deep in colour - a feature of all of the 2013 Chopin's reds. The nose is classy, quite 'classic' showing power and restrained richness. On the palate, it shows maraschino cherry with a spicy, quite intense middle palate providing flavours that are immediately attractive. In the background there are overtones of ripe raspberry and evident spice. It is long with some complexity already showing and a very supple finish. Seriously good - punching well above it weight!
2013 Nuits-St-Georges "Les Charmottes"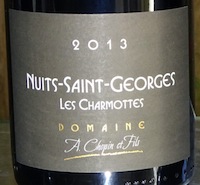 The colour is bright red with a hint of purple on the rim. There are cherry notes on the nose with elements of ironstone, earth, sur-bois and some very attractive spicy characters. Another feature of this wine is a distinctive minerality which is one of the keynotes on the reds from this commune. It has a good attack with a mouth filling fresh berry flavour combined with cherry overtones and earthiness. There is great persistence in the middle palate and the tannin structure will ensure medium term ageing. This is a wine that will be well suited to strongly flavoured beef dishes.
2013 Nuits-St-Georges "Bas de Combe"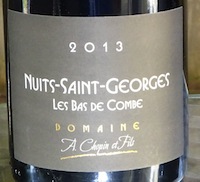 This appellation is noteworthy for its affinity to the Premier Cru vineyards within its vicinity. The vineyard of "Bas de Combe" stands out for its sheer quality and style. The Chopin version is benchmark material with a delightful bright red colour, wonderfully detailed nose and supple finish. Bas de Combe tends to show the 'berry-side' of pinot noir. Here there are currant smells with a subtle spice and some rich raspberry notes. The entry is quite assertive but then gives way to supple, long, fine-grained tannins. This is a genuine bargain and is easily of Premier Cru quality.
2013 Chambolle-Musigny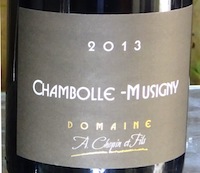 Like all of the 2013Chopin reds, this wine has a most alluring, delightful colour with a hint of ruby on the rim. A wonderful Chambolle nose with intense violets greets the taster. There is a real impression of purity and this is a perfect example of this most enduring 'terroir'. Some sour cherry notes with spicy, sophisticated oak treatment this is a most complete aromatic feature. There is an 'ethereal' character here that is the essence of Chambolle. Good concentration of pure cherry fruits, superb rich texture and excellent persistence make this a star in a very strong portfolio. This beautifully structured wine has that wonderful mixture of concentration, texture and fine balance. Delicious!
2013 Nuits-St-Georges 1er Cru "Les Murgers"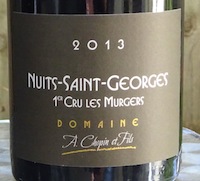 The colour here is surprisingly deep red with a dense ruby rim. Of all the appellations of the Côte de Nuits, the Premier Crus from this part of Nuits-St-Georges are among the most profoundly perfumed and display a more complete vinosity than others with the exception of the vineyards of Vosne-Romanée. Here we have an exotic spice bag with loads of ripe raspberry and some cherry as well. Underneath there are cassis notes and a subtle fungal character with the definitive Nuits-St-Georges truffles. The fruit flavours are quite superb with powerful middle palate berry juice, a most wonderful mouth feel supported by supple and very long tannins. This is a most complete, complex and delicious expression of red burgundy. Although it is delicious, now it will be better in 5 years' time.