Domaine Pélaquié
Tasting Notes
2017 Domaine Pélaquié Lirac Rouge
This wine is a blend of 70% Grenache and 30% Mourvèdre. It was matured in stainless steel tanks for 12 months after fermentation and was then bottled.
It is an intense ruby in colour. This wine shows red- black fruits with plenty of dark plum, a little blackberry, currants and some exotic spices. It is attractively extracted with ripe fruits that coat the mouth with layers of flavours, then concentrates in the middle of the palate and exits with a powerful, ripe and most pleasant finish.
The tannins are in perfect balance with the fruit and the structure ensures a medium-term cellaring prospect.
This is an intense, fruit driven wine that will give great pleasure to many.
It is best served with charcuterie, red meat or cheese. It is a delight to drink now but will age well in the bottle for 8 to 10 years.
2017 Côtes du Rhône "Cuvée Mourvèdre"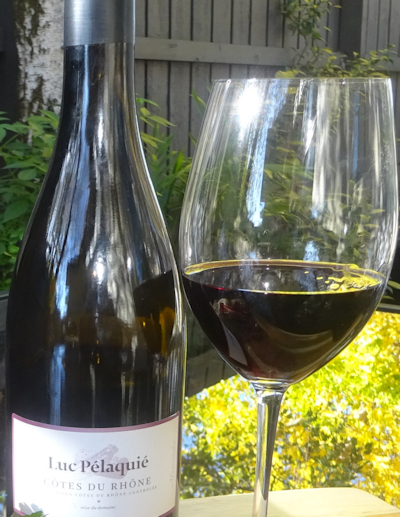 Luc Pélaquié has excelled in the execution of this absolutely delicious and fine Mourvèdre.
The only varietal wine of the range, the "Cuvée Mourvèdre" is unusual. The grape variety Mourvèdre creates a wine of great quality, aromatic, tannic and structured, able to be cellared. This wine is full-bodied and delicate, and becomes very complex with some time.

The colour is quite drenched deep red and leads into an exotic nose of very fine red berry fruits, subtle spices and some blackcurrant. The berry impact arrives early on the front palate and then the very fine middle palate flavours yield an elegant and alluring eastern spice character.

This is a most sophisticated and elegant with which seems almost Burgundian in its appeal.
A most unusual and attractive wine.
Drink some now and enjoy the remainder over the next 10 years!
2017 Côtes du Rhône Village "Laudun"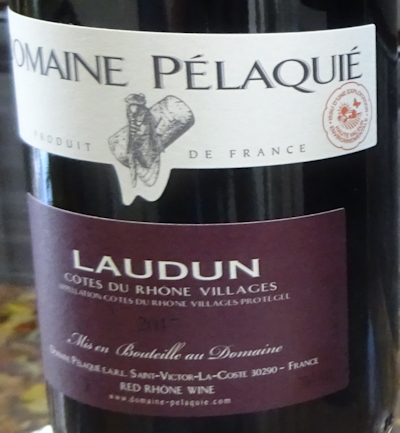 This wine is a blend of Syrah 40%, Grenache 40% and Mourvèdre 20%.The vineyards surround three villages – Laudun, Saint Victor la Coste and Tresques. The Pélaquié family has been making wine in this area since the 16th century.
The grapes were hand-harvested from sandy clay slopes with a northern exposure. After a traditional fermentation of 12-14 days, the wine was aged in stainless tanks for 12 months before bottling.
It is bright medium red in appearance
The nose is redolent of perfume, blackberry, earth, some spices and red fruit aromas.

The flavours are both generous and relatively intense with dark fruits, raspberry, a hint of plum and some generous spiciness. The structure is both fine and intense with an attractive mouth feel, excellent balance and a long, subtle tannic finish.
This is a wine that is immediately attractive with its generous fruit. It will age well for 10 years and beyond.
It is perfect with roasted meats and cheeses.
2017 Lirac Rosé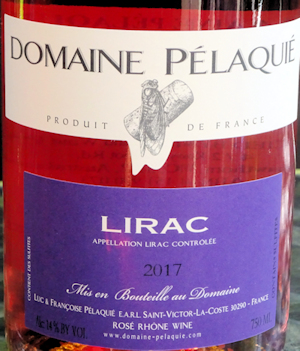 This wine is made from a blend of 60% Grenache noir, 20% Mourvèdre and 20% Cinsault.
The grapes are grown on sandy and clay slopes, with fossilized sediments in the region of the Southern Rhône known as Lirac (which is a Cru). The vines have a northern exposure.
Before the pressing, the grapes are put in cask for a few hours of maceration. The first juice and the press juice are blended, followed by fermentation in stainless steel casks.
The wine is a clear, bright intense pink colour. The bouquet is complex, floral and attractive showing sweet red fruits. On the palate, it is fresh and rich, very clean with a dry finish. Excellent red fruits are highlighted in this wine.
This is a most satisfying Rosé and is perfect with grilled fish, white meats and a range of vegetables.


2016 Domaine Pélaquié Côtes du Rhône Rouge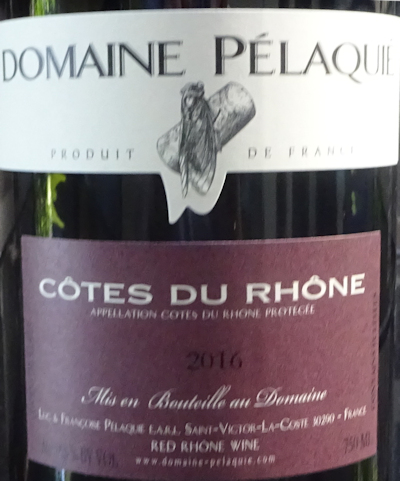 This is a blend of 60% Grenache, 40% Syrah (Shiraz) .
Developing superbly this is a fine and absolutely delicious wine that arrived at its plateau.
The flavours persist and provide an abundantly fruited wine a soft finish.
Enjoy now and until 2022.


2014 Domaine Pélaquié Côtes du Rhône Rouge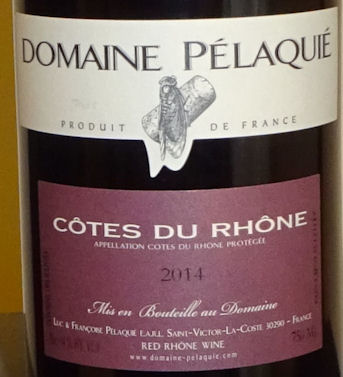 This is a blend of 60% Grenache, 40% Syrah (Shiraz) .
It is bright ruby red in colour. The aroma is particularly perfumed with lifted cherry, violets and roses to the fore, a little cinnamon spice and hint of white pepper. In the background there are some earthy, slightly meaty characters with a whiff of game bird and liquorice. On the palate, it has a lovely entry with generous, but subtle wild strawberry fruit flavour, hints of truffle and some exotic spice that leaves the mouth with a suggestion of fruit-sweetness.