Wine News
2018 Besson Petit Chablis a Delight
Camille Besson has done it again! The 2018 Besson Petit Chablis is an absolute delight and, as is often the case, punches well above its weight!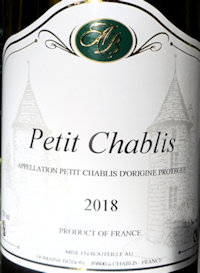 2014 Domaine Bachey-Legros Santenay Clos de Hâtes
We tasted this wine again recently and were delighted with it - it is beautifully balanced with soft, silky tannins. The savoury fruit shows through with hints of spice and earthiness. A delight to drink, a fine example from this increasingly important appellation.
The climat is on the edge of the village of Santenay, close to the square. It is surrounded on three sides by Premier Cru vineyards.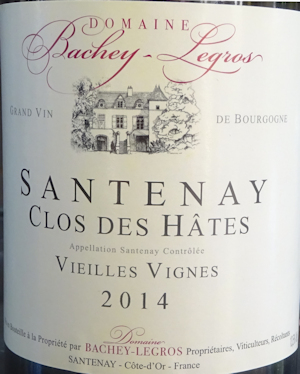 2014 Domaine Schoenheitz Gewurztraminer
Gewurztraminer is one of Alsace's noble grapes and is used to produce a most distinctive and attractive wine. It's aroma and intense flavour set it apart from many other wines. We recently tasted again Domaine Schoenheitz's 2014 Gewurztraminer and it was a delight - wonderful balance of acidity and sweet fruit, intense and lingering on the palate with long and satisfying finish.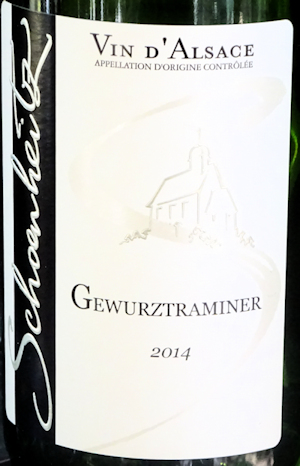 Château Routas Rose
Our friends at Kooyong Lawn Tennis Club have been enjoying Château Routas Rose by the glass during February and March.
.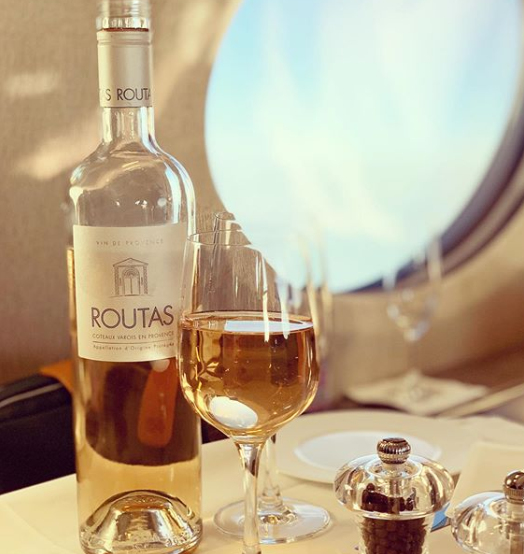 USA and French Wine Tariff Dispute
The USA imposed a 25% import tariff on French wine in October 2019. The USA further threatened to impose a 100% tariff on French products including sparkling wine. The USA is Champagne's biggest export market and such a tariff would potentially have a significant import on that market. As of March, 2020 the tariff had not been imposed but the threat remains.
Enjoy Besson Petit Chablis at Frederic in Cremorne
The patrons at Frederic in Cremorne, the Reymond family's most recently opened restaurant and bar, have been enjoying Domaine Besson's Petit Chablis since opening.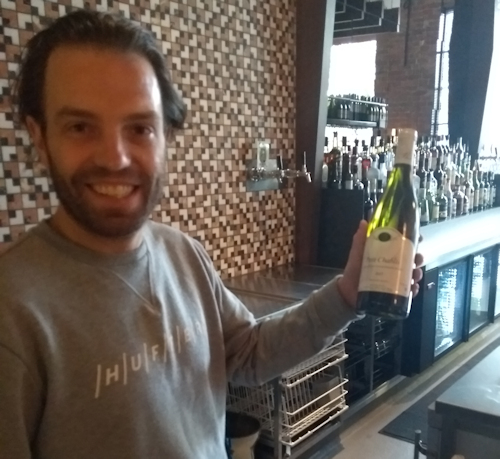 Ed Reymond with Besson Petit Chablis
Promising 2019 Harvest in Chablis
Camille Besson has reported that the 2019 harvest went very well and they collected grapes of very good quality. They suffered a few losses due to the spring frosts but also due to the warm weather during flowering and the lack of rain all summer long.

They estimate losses at around 15% it is not catastrophic and could have been worse.

In summary, it appears that the 2019 vintage in Chablis will be a very good one.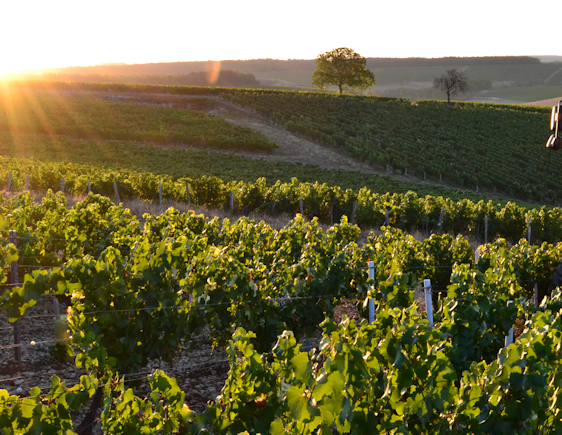 2019 harvest in Chablis
Besson Premier Cru "Vaillons" with Chinese Food
A friend brought a bottle of the 2013 Domaine Besson 1er Cru Chablis "Vaillons" to dinner on the weekend and it was served with Peking Duck. The wine is rich and ripe but clean and elegant - really good with the duck!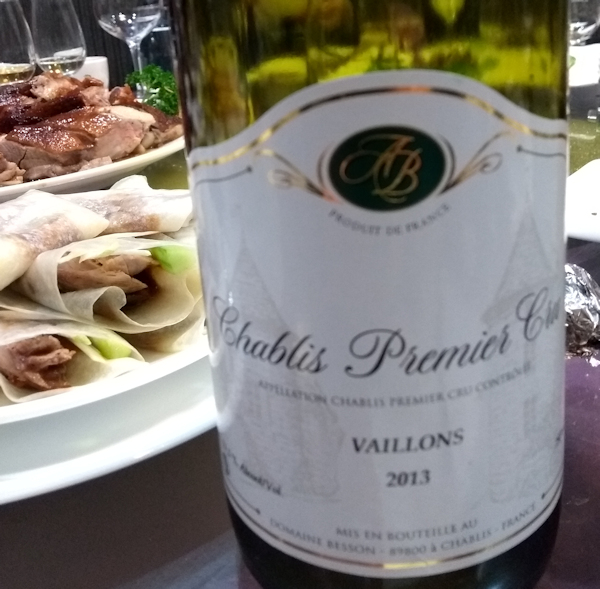 A Nostalgic Lunch featuring Jessiaume Burgundy
A nostalgic lunch with friends at the University Cafe in Carlton saw the 2014 Jessiaume Beaune 1er Cru "Les Cent Vignes" being the highlight of the wines - went perfectly with the quail.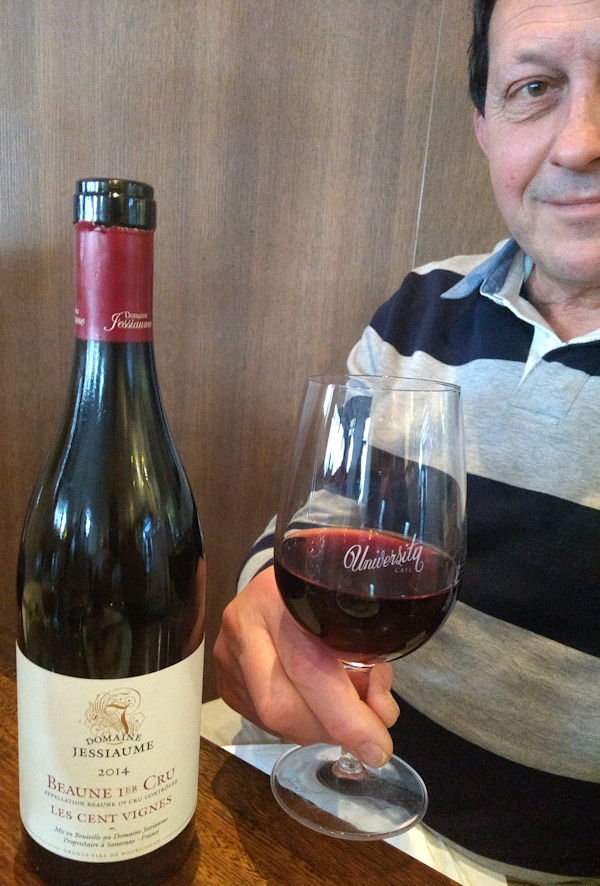 A Perfect Match?
We enjoyed the 2017 Besson Petit Chablis with new season's asparagus last night. A great wine and food match!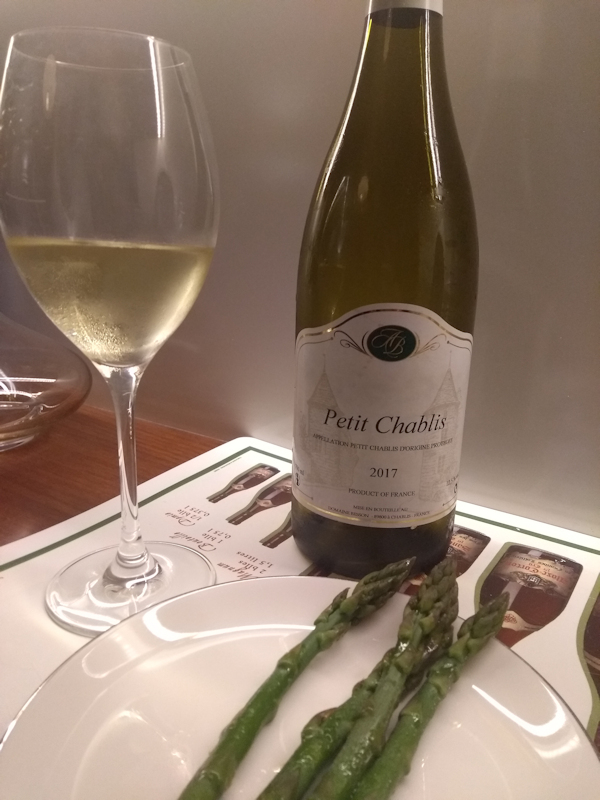 Besson Petit Chablis at Mister Sandrino
Enjoy a glass of Domaine Besson's 2017 Petit Chablis at Mister Sandrino in Hawthorn - available by the glass.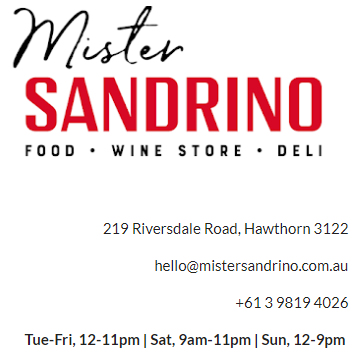 Cordon Bleu Cookery School
It was a pleasure to show a number of our wines to the latest class of graduates at the Cordon Bleu Cookery School at Holmesglen TAFE in Moorabbin. As always, the wines showed up well including:
NV Champagne Fluteau Blanc de Noirs
2017 Domaine Besson Chablis
2018 Chateau Routas Provence Rose
2016 Domaine Pelaquie Cotes du Rhone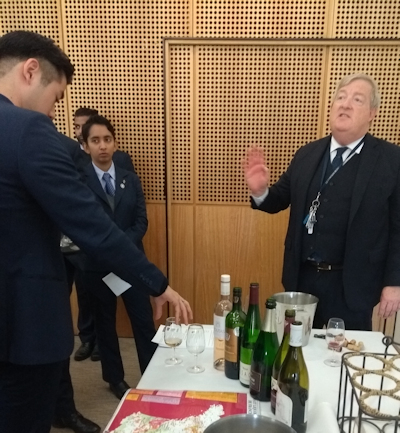 Brad French from the Cordon Bleu Cookery School explains the virtues of Champagne Fluteau.
Maison Alex Gambal Sold to Burgundy's Boisset Family
Maison Alex Gambal has been sold to the Boisset family who control some 1,800 acres of vines in France and California.
We were delighted to be associated with Alex for a number of years and we wish him well in his future ventures in the Napa Valley.
2019 Good Food Guide
Delighted to see Cutler & Co in Fitzroy nominated as a finalist for the "Wine List of the Year" award in the forthcoming 2019 Good Food Guide, as reported in The Sunday Age, 1 September 2019. A number of our wines are on their list and these have been enjoyed by their customers some years. The wines include Domaine Besson Chablis and Guy Farge Syrah from the Northern Rhone.
2017 Burgundy Harvest back to Normal
The Confédération des Appellations et des Vignerons de Bourgogne (CAVB) reports that the volume harvested in 2017 was around 1.5 million hectoliters. The figure is up 23% on 2016 and also up 10% on the five-year average, and 5% on the 10-year figure.
2016 Besson Petit Chablis Wins Medal
The 2016 Besson Petit Chablis was one of only six medal winners at the recent 32nd Chablis Wine Competition. The wine was awarded a Bronze Medal.
Chablis Increasing in Popularity in Australia
According to the Bureau Interprofessionnel des Vins de Bourgogne, imports of Chablis and Petit Chablis into Australia grew by 16.5% in volume in the first 8 months of 2017 compared to the same time period in 2016. In this time period, Australia imported more Chablis than either China or Hong Kong - the two other biggest regional markets.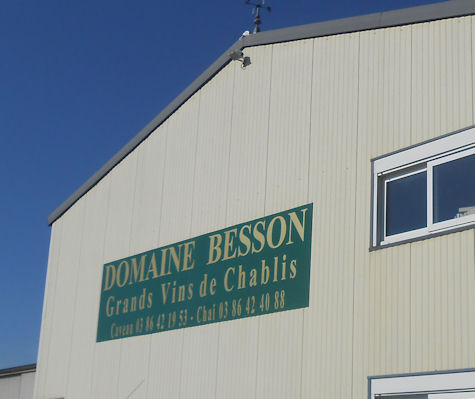 Two New Burgundy Appellations
Starting with the 2017 vintage, there will be two new Burgundy appellations.
Bourgogne Côte d'Or
The producers Bourgogne located in the Côte de Nuits and the Côte de Beaune can now offer the denomination Bourgogne Côte d'Or. This is an additional geographic denomination. It is reserved for red and white wines produced with Pinot Noir and Chardonnay grapes respectlvely in the villages from Dijon in the north to Maranges in the south.
Vézelay, Grand Vin de Bourgogne
This is a new village appellations. It is reserved for still white wines produced from Chardonnay in the four villages of Vézelay, Asquins, Saint-Père and Tharoiseau. Vézelay is about 120 km north west of Beaune.
2016 Champagne Exports
The United Kingdom is the biggest export market for Champagne with over 30 million bottles exported there in 2016.
Australia remains the 6th largest export market market for Champagne with over 7 million bottles exported here in 2016 - an increase of one million bottles over 2014.
Source: www.statista.com
World Wine Production 2017
World Wine Production by Country 2017
| | | | |
| --- | --- | --- | --- |
| Rank | Country | Millions of Liters | % of Total |
| 1 | Italy | 4,082,900 | 17.93% |
| 2 | France | 4,047,700 | 16.74% |
| 3 | Spain | 3,150,00 | 15.28% |
| 4 | United States | 2,760,400 | 10.63% |
| 5 | Australia | 1,381,600 | 6.34% |
| 6 | Argentina | 1,177,800 | 5.38% |
| 7 | China | 1,155,00 | 5.20% |
| 8 | South Africa | 1,086,500 | 4.93% |
| 9 | Chile | 1,001,000 | 4.33% |
| 10 | Germany | 890,300 | 3.70% |
Source; OIV, October 2017
2011 Vintage in Burgundy
Clive Coates:
"The 2011 Red Burgundies are delicious"
"They have a purity of fruit"
"The Underground Wineletter":
"The 2011 Burgundy vintage is a BIG surprise"
"The best are succulent, lush and intensely fruity"
"The 2011s are beautifully balanced and remind us of the very reliable 2000 vintage"
Bill Nanson "The Burgundy Report":

"The 2011 vintage is very good"
"Decanter Magazine"

"The 2011 Red Burgundies are very transparent"
"They have distinctive shape and a wonderful mouthfeel"
"Overall, they are generous, finely textured and elegant"
Alex Gambal Purchased "Les Batards Montrachet" Grand Cru
According to a report in Decanter, Alex Gambal has become the first non-Frenchman to own land in a Montrachet site with his purchase from Philippe Brenot in 2011. Stephen Brook has described Alex as having "... patiently created a small, high-quality négociant company. Whites and reds are equally good, and prices are moderate."
2008 Maison Alex Gambal Puligny-Montrachet
Opened Alex Gambal's 2008 Puligny-Montrachet recently for a first taste. Outstanding wine from a passionate negociant
in Beaune. The grapes came from old vines in the heart of Puligny. Alex kept back the picking for a week after most others in the village. The result is a wine of great structure with fine acidty, lovely fruit and oak balance and excellent length. A wine to savour!
Chablis Wine Market
The Chablis Wine Market is held on the first Saturday in May every year. It gives smaller winemakers the opportunity to show their wines.