Wine News
2017 Burgundy Harvest back to Normal
The Confédération des Appellations et des Vignerons de Bourgogne (CAVB) reports that the volume harvested in 2017 was around 1.5 million hectoliters. The figure is up 23% on 2016 and also up 10% on the five-year average, and 5% on the 10-year figure.
2016 Besson Petit Chablis Wins Medal
The 2016 Besson Petit Chablis was one of only six medal winners at the recent 32nd Chablis Wine Competition. The wine was awarded a Bronze Medal.
Chablis Increasing in Popularity in Australia
According to the Bureau Interprofessionnel des Vins de Bourgogne, imports of Chablis and Petit Chablis into Australia grew by 16.5% in volume in the first 8 months of 2017 compared to the same time period in 2016. In this time period, Australia imported more Chablis than either China or Hong Kong - the two other biggest regional markets.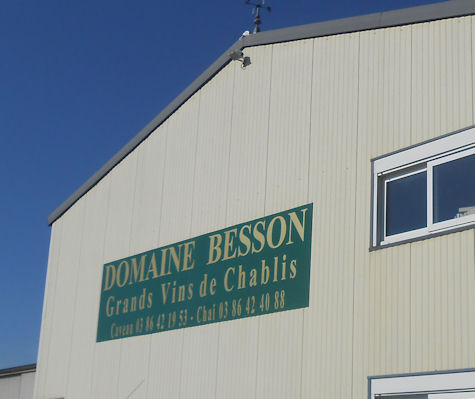 Two New Burgundy Appellations
Starting with the 2017 vintage, there will be two new Burgundy appellations.
Bourgogne Côte d'Or
The producers Bourgogne located in the Côte de Nuits and the Côte de Beaune can now offer the denomination Bourgogne Côte d'Or. This is an additional geographic denomination. It is reserved for red and white wines produced with Pinot Noir and Chardonnay grapes respectlvely in the villages from Dijon in the north to Maranges in the south.
Vézelay, Grand Vin de Bourgogne
This is a new village appellations. It is reserved for still white wines produced from Chardonnay in the four villages of Vézelay, Asquins, Saint-Père and Tharoiseau. Vézelay is about 120 km north west of Beaune.
2016 Champagne Exports
The United Kingdom is the biggest export market for Champagne with over 30 million bottles exported there in 2016.
Australia remains the 6th largest export market market for Champagne with over 7 million bottles exported here in 2016 - an increase of one million bottles over 2014.
Source: www.statista.com
World Wine Production 2017
World Wine Production by Country 2017
| | | | |
| --- | --- | --- | --- |
| Rank | Country | Millions of Liters | % of Total |
| 1 | Italy | 4,082,900 | 17.93% |
| 2 | France | 4,047,700 | 16.74% |
| 3 | Spain | 3,150,00 | 15.28% |
| 4 | United States | 2,760,400 | 10.63% |
| 5 | Australia | 1,381,600 | 6.34% |
| 6 | Argentina | 1,177,800 | 5.38% |
| 7 | China | 1,155,00 | 5.20% |
| 8 | South Africa | 1,086,500 | 4.93% |
| 9 | Chile | 1,001,000 | 4.33% |
| 10 | Germany | 890,300 | 3.70% |
Source; OIV, October 2017
2011 Vintage in Burgundy
Clive Coates:
"The 2011 Red Burgundies are delicious"
"They have a purity of fruit"
"The Underground Wineletter":
"The 2011 Burgundy vintage is a BIG surprise"
"The best are succulent, lush and intensely fruity"
"The 2011s are beautifully balanced and remind us of the very reliable 2000 vintage"
Bill Nanson "The Burgundy Report":

"The 2011 vintage is very good"
"Decanter Magazine"

"The 2011 Red Burgundies are very transparent"
"They have distinctive shape and a wonderful mouthfeel"
"Overall, they are generous, finely textured and elegant"
Alex Gambal Purchased "Les Batards Montrachet" Grand Cru
According to a report in Decanter, Alex Gambal has become the first non-Frenchman to own land in a Montrachet site with his purchase from Philippe Brenot in 2011. Stephen Brook has described Alex as having "... patiently created a small, high-quality négociant company. Whites and reds are equally good, and prices are moderate."
2008 Maison Alex Gambal Puligny-Montrachet
Opened Alex Gambal's 2008 Puligny-Montrachet recently for a first taste. Outstanding wine from a passionate negociant
in Beaune. The grapes came from old vines in the heart of Puligny. Alex kept back the picking for a week after most others in the village. The result is a wine of great structure with fine acidty, lovely fruit and oak balance and excellent length. A wine to savour!
Chablis Wine Market
The Chablis Wine Market is held on the first Saturday in May every year. It gives smaller winemakers the opportunity to show their wines.