Château Maison Noble
Maransin, Bordeaux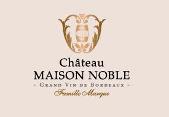 Château Maison Noble is a family owned winery of 20 hectares on the right bank in Bordeaux. The Château has been in the hands of the family for 250 years and the current owner is Jean-Bertrand Marque.
The Château is situated about 25 km north of St-Emillion and the vines are planted across two siliceous-clay plateaus. It is made up of 13 hectares of Merlot, 6 hectares of Cabernet Sauvignon and 1 hectare of Sauvignon Blanc.
The 2012 red is purplish and intense in colour. The wood and fruit are well balanced and the wine has excellent concentration in mouth.
It has the capacity to age well but is very satisfying to drink young.
This is an excellent entry level Bordeaux.
| Wine | RRP |
| --- | --- |
| 2012 Bordeaux Superieur Prestige Blend | $35.00 |