France 2015
A visit to France in March by Greg and Marie gave them the opportunity to see their producers and evaluate wines from the 2013 vintage in Burgundy.
Tuesday, 10 March 2015
We first visited Guy Farge two years ago and enjoyed his wine. His winery is located in the village of Saint Jean de Muzols and overlooks the Rhone River. At the back of his winery are steeply tiered vines that provide the grapes for his St Joseph Syrah. Guy is a rising star in the northern Rhone and his wines will not disappoint.
Finished with lunch at "Le Mangevins" in Tain L'Hermitage. It was a tiny restaurant, seating only 20, and with a limited menu but the food was excellent and we enjoyed one of Guy's St Joseph white from 2007.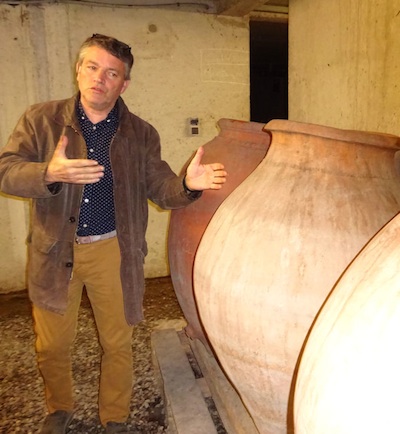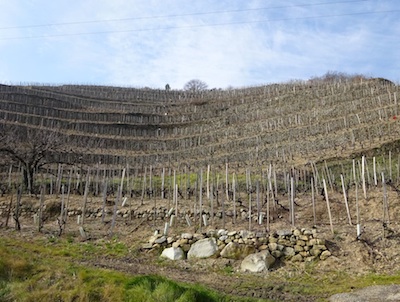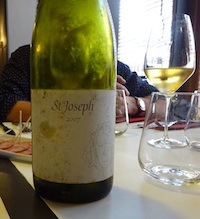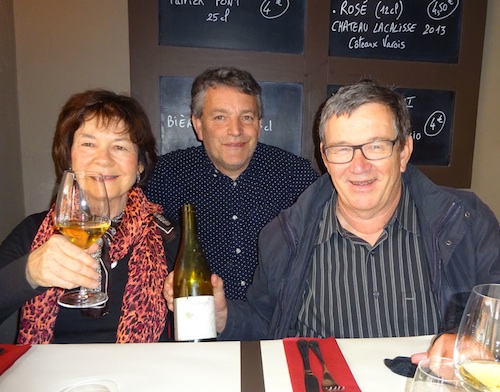 Saturday, 7 March
A comprehensive tasting of Vins d'Alsace Schoehneitz once again demonstrated how good these wines are - made with great care from fruit that was hand picked on the slopes of the Munster Valley. The wines tasted included:
Friday, 6 March
The first tasting of the trip was with Gilles Schoepfer at Domaine Jean-Louis Schoepfer in Wettolsheim on the outskirts of Colmar. The Schoepfer family has been making wine in Alsace for over 300 years and they are rightly proud of their Grand Cru "Hengst" vineyard. We enjoyed tasting Gilles' wines last year and thought it was worth a second visit.
We were impressed by the quality of his wines as well as the way he combines modern techniques with the traditional methods. His late picked wines were outstanding, as was his Grand Cru Riesling.
A visit to Domaine Paul Blanck in Kientzheim demonstrated why this is one of the region's outstanding winemakers. Frederic Blanck took us through a range of his fine wines and talked about his commitment to the use of screwcaps rather than cork. His "Schlossberg" Grand Cru vineyard is in the hills next to his winery.
Thursday, 5 March
The long trip to Paris was followed by train travel to Strasbourg for one night in Alsace's largest city. Out hotel was directly opposite the old station, undboubtedly a grand station in days gone by. The first meal in France was a traditional Alsace meal in a local restaurant.
France 2014
Greg and Marie returned to France in February, 2014 to visit their key wine makers and producers.
Domaine Combe Julière
Laurent Robert's reds have already been very popular since we introduced them to Australia last year.
Domaine Luc Pélaquié
They first visited Domaine Luc Pélaquié in the village of Saint Victor La Coste in the heart of the Rhône valley. The villages of Laudum, Saint Victor La Coste and Tresques make up the vineyards of Laudun.
Pélaquié also has wines from Lirac and Tavel, both of which are Crus.
We were impressed by the wines and we are looking forward to trying some samples in Melbourne.
We are bringing in samples of the following to try:
2012 Côtes du Rhône Villages Laudun "Luc Pélaquié" Blanc
2013 Lirac Rosé
2012 Côtes du Rhône Villages Laudun Rouge
2012 Lirac Rouge
They started in Avignon on 17 February after the long flight to travel and the TGV to Avignon.
Dinner was at La Fourchette in Avignon, not far from our hotel. The restaurant is run the the Hiely family who are sixth generation restauranters. Located just inside the walls, not far from the Popes' Palace, the food was a delight. Traditional, regional food presented with a modern touch enhancing the flavours of the ingredients. We will go back if ever we stay in Avignon again! We dined with Harry Bosmans, our agent the Rhône and we were able to work out our plans for the next day.
France 2013
Greg and Marie left on March 15 for their 2013 visit.
Day 1, 16 March
Arriving in France was quite an experience. A layer of snow blanketed Charles de Gaulle airport with an icy winter wind. Quite a change from the heat of Melbourne.
Dinner at the 19th Century Brasserie Georges restored the natural order of events together with a fine Alsatian Riesling and an excellent Rhone red made for a fine evening.
Brasserie Georges
Brasserie Georges (interior)
Day 2
Côte Rotie
The drive along the Rhone from Lyon to Orange took us through the famous villa of Ampuis. The forbidding Côte Rotie appeared to look down on us and I wondered at how such wonderful wine could be made from grapes grown in such difficult conditions. We had to stop and try a Côte Rotie wine together with a wonderfully expressive Condrieu, a 100% Viognier. Over dinner we enjoyed the 2010 a Côte Rotie from Domaine de Rosiers and marvelled at its intensity and balance. What an experience.
Côte Rotie in the village of Ampuis
Day 3
A day in the wineries around Rasteau and Chateauneuf du Pape saw us tasting about 40 different wines from four excellent wineries. The wines of Rasteau impressed - newly promoted appellation and one of the rising stars of the Rhone.
A drive through the vineyards of Chateauneuf du Pape highlighted the different soils from those that were covered in large rocks to those with fine, silky soil. This diversity brings complexity to the wines.
Stones in the vineyards of Chateauneuf du Pape
Laurent Robert from Domaine Combe Juliere in
front of some of his century old grenache vines.
Day 4
The wines of the Rhône Valley have been a revelation. As we visit the small, up and coming wineries we are finding elegant, well-made wines with loads of fruit and an excellent balance of acid and tannin. These winemakers are working to express the terroir from the different soils and locations. In many cases, they are working with 100 year old grape vines and low yields.
The wines of Domaine La Ligiere reflected this modern approach. Phillipe Ligier in Vacqueyras has a very good understanding of viticulture and the vines that are most suitable for these areas. His range of wines is simply superb.
Guy Farge in the northern Rhône is also passionate about his vines and the terroir. His St Joseph and Cornas wines, made from Syrah, are simply superb. Similarly, his white St Joseph, made from marsanne and roussane was excellent. Our visit finished with home-made sausage and terrine. We are looking forward to introducing his wines to Australia.
1. Guy Farge samples his own terrine.
2. Phillipe Bernard (right) explains his wine making philosophy.
Phill is currently participating in the south of France participating in the Décurvertes en Vallée du Rhône. This is a showpiece for the villages and wines of the Rhône.
We are looking forward to trying some of his discoveries back in Australia later in the year.
---
France 2012
Greg and Marie visited France in May and June and met with a range of winemakers.
They visited a number of wineries in Burgundy, Chablis and Champagne and have arranged a range of wines to be imported into Australia. These wines include a number of samples from the Cote d'or and Champagne.
Thursday 7 June
A visit to Champagne Renaudin in the village of Moussy was interesting. The Renaudin family has been associated with Champagne for many generations and once had an association with Bollinger. Although a small winery, the wines were outstanding. In particular, a 1998 Blanc de Blancs with zero sugar in the dosage was a pleasure to taste.


Champagne Renaudin
Wednesday 6 June
Quentin Paillard of Champagne Pierre Paillard showed us a range of exquisite Champagne. In the tiny village of Bouzy, the vineyards are all Grand Crus. The range of wines was stylish and consistently good. An outstanding grower of Champagne. They also make a small quantity of still red wine from Pinot Noir - Bouze Rouge. A case of samples is on the way to Australia for tasting.
Quentin Paillard outside his winery
Tuesday 5 June
A visit to Champagne Guy Charlemagne in the village of Le Mesnil-sur-Oger revealed some more fine wines. The highlight was their premium vintage 2002 Champagne. They always keep half a pallet of each vintage in reserve to make sure stocks don't run out at the famous La Tour D'Argent Restaurant in Paris.
The tasting line up at Guy Charlemagne
Monday 4 June
A visit to the Champagne House or Ch & A Prieur, founded in 1825 was most worthwhile. A range of wines were tasted including a non vintage brut Champagne, a Blanc de Blancs and a vintage 2002. They were all most impressive. With support from Prieur, 30 bottles are heading to Australia for evaluation and tasting. This was a most impressive range of Champagne from a small but long established House.
Champagne House Ch & A Prieur
Saturday 2 June
Greg and Marie travelled from Beaune to Epernay and are now about to embark on visits to a number of Champagne houses. They found time to call in at Domaine Jean-Phillipe Marchand in Gevrey-Chambertin on the way and were impressed by his wine.
Jean-Phillip Marchand in his cellar in Gevrey-Chambertin.
Thursday 31 May
Thursday was moving day - they picked up 6 dozen wines from four different producers in the Cote de Beaune to bring back to Australia for tasting. Fortunately, all the export paper work was done correctly and the wine will leave Le Havre later in the month, due in Australia in late July.
Wednesday 30 May
A visit to Champagne Fluteau in the beautiful village of Gy? Sur Seine on the River Seine in the Cote des Bar region of Champagne proved most worthwhile. The Fluteau family has been making Champagne since 1935 and Thierry and Jennifer Fluteau are doing a fine job of keeping up a high standard of grower Champagne. Whilst they are a small producer, the quality is excellent. The entry level Champagne - a Blanc de Noirs - was an excellent starting point showing clean fruit and a fine finish.
Thierry and Jennifer Fluteau
Monday 28 May
The one and a half hour's drive drive to Chablis to meet the Besson family was most worthwhile. The winery is clean and modern with much stainless steel in evidence. The tastings of 2009, 2010 and 2011 (out of barrel) vintages demonstrated Alain Besson's ability to capture the fruit flavour whilst retaining the structure. A later tasting of Fevre Chablis from 2010 including three Grand Crus, highlighted the easy drinking feature of the Besson wines.
The Besson family in their winery in Chablis
Sunday 27 May
h4>
A visit to the Caveau in Chassagne-Montrachet allowed them to conclude the arrangements to import the 2010 Vincent Girardin Bourgogne Rouge – the 2009 was very popular and the 2010 has excellent fruit and better structure than the 2009. Lingling Tang Martin took them through a range of interesting wines including a couple of well priced Rully 1er Crus.
Greg with Lingling at the Caveau in Chassagne-Montrachet
Saturday 27 May
The Saturday market in Beaune is widely acclaimed as one of the best in France and a "must do" when visiting this famous town. There was a fine array of fresh produce - meat, seafood, cheeses, fruit and vegetables. The strawberries and cherries are just coming into season. There was a range of potatoes but they could not spot the humble sebago.
Thursday 24 May
Domaine Capitain-Gagnerot in Ladoix-Serrigny.
They visited Domaine Capitain-Gagnerot in Ladoix-Serrigny where they were hosted by Pierre-Francois Capitain. This impressive domaine has been in the family since 1806 and inlcudes Corton, Clos Vougeot and Echhezaux Grand Cru reds and Corton Charlemagne Grand Cru white. The tasting in the spotlessly clean cellars was interesting.
The domaine has recently installed a large number of stainless steel vats for the vinification process. They use less new oak than most producers - typically 10%. This helps them present wines with clean and attractive fruit while still reflecting the different terroirs.
Wednesday 23 May
Domaine Jean-Luc Maldant in Chorey-L?s-Beaune.
They visited Domaine Jean-Luc Maldant in the small village of Chorey-Lès-Beaune, just north of Beaune and on the edge of the Côte de Nuits. Jean-Luc and his wife established this domain in 1988 and have concentrated on the domestic market with only a very small percentage of their wines being exported.
The wines were all clean with crisp acidity and exhibiting excellent fruit. A most impressive range of value wines. They also have Domaine Maldant Pauvelot that they took over from Jean-Luc's grandfather about 4 years ago. This is a prestige brand that includes Corton-Charlemagne Grand Cru and Corton Grand Cru.
Armand Chopin in his winery
Tuesday 22 May
After a visit to Domaine Rougeot in Meursault in the morning, Greg and Marie called in on Armand Chopin in Comblanchien.
He is another small producer making excellent wines. He has some very good parcels of wine in Nuits-St-Georges. Although he has almost sold out of his 2010 vintage, he has promised to make a small parcel available for export to Australia for the first time.
His great grandfather is featured in the book "War and Wine" where he negotiated the release of a number of local people from capture by the Germans near the end of World War II.
Monday 21 May
Marie gets up close and personal with the truffles in a farmers' market in Meursault.
Greg and Marie visited Domaine Alex Gambal in Beaune.
Having been delighted with the Gambal wines that were imported earlier this year, it was pleasing to see the same high standard reflected in both the barrel samples and the wines on tasting.
The 2011 wines in barrel all showed clean, attractive fruit with crisp acidity and soft tannin finishes. The wines demonstrated the high quality of the 2011 vintage. Unfortunately, once again, quantities are down. The Latricieres Chambertin showed great length and finesse with elegance.
The 2010's tasted were also attractive. The Chorey Les Beaune was a standout as a wine of value.
Sunday 20 May
Marie inspects the vines in Montrachet Grand Cru to make sure they meet with her high standards.
A day in Chassagne-Montrachet and surrounds tasting wines and looking at the vineyards led to the following conclusions:
The 2010 vintage in the Côte de Beaune is outstanding with high quality red and white wines showing excellent fruit with great structure – a fine balance of fruit, acidity and tannin in the better wines.
There is great value to be had in some of the lesser known appellations such as Rully and St Romain.
The 2012 vintage is behind the 2011 in development – the vines reflect the cool spring in Europe and are not as advanced as 2011 at the same time
Saturday 19 May
Rue d'Alsace with no traffic - a rarely seen sight in Beaune.
Greg and Marie arrived in Beaune on Saturday 19 May. Beaune is the home of many fine negociants and winemakers. They are staying in small apartment on Rue d'Alsace near the centre of the old town. The apartment is over a shop and opposite a well known restaurant.
They wasted no time in getting down to business and met Jean-Luc Joillot and were impressed with his wines from his Domaine in Pommard. They also enjoyed a 2010 Monthelie Blanc from Domaine des Terres de Velle, made by Alex Gambal's former winemaker.
Next stop is Chassagne-Montrachet.