Our Wines
We have selected premium wines for sale from:
Champagne
Chablis
Burgundy
Alsace
Southern Rhône
In each case, we have identified wines from small growers that are only rarely seen in Australia. We are interested in high quality wines from such growers.
Champagne Fluteau
Champagne Fluteau, established in 1935, is a family owned and operated winery located in the Aube region of Champagne making estate grown and produced champagnes. Now being run by Thierry and Jennifer Fluteau, the third generation of the family. Their son, Jeremy, has finished wine shool and is now actively involved in the company.
They all share a desire to make premium, hand crafted champagnes that reflect the unique soils and climate of their Cote de Bars property.
Emphasis is placed on quality, combining the traditional know-how inherited from their ancestors with modern techniques, and an unwavering commitment to the pursuit of excellence and sustainability, both in the vineyards and in the cellars.
We are delighted to have available Fluteau Champagne Blanc de Noirs made from Pinot Noir grapes grown on their property in the famous village of Essoyes.
Champagne Olivier Horiot
Olivier Horiot is a rising star in Champagne. His estate of 7 hectares is located in Les Riceys in the Côte des Bar, the southern region of Champagne. The soil in this region is similar to that in Chablis, clay and limestone, rather than chalk.  Olivier vinifies his still wines, including the famous Rose des Riceys, and his Champagnes from approximately 2 hectares.
For the first four years, Olivier concentrated on making still wines and the base wines for the Champagnes that were to come. These included wines from some of the 'forgotten' Champagne grape varieties including Pinot Blanc, Pinot Gris, Arbane and Petit Meslier, as well as the traditional Chardonnay, Pinot Noir and Pinot Meunier.  In addition, he vinifies each grape variety individually from different terroirs that include 'En Barmont' and 'En Valingrain'.
He produces four Champagnes, all with low dosages, never above 2g/l. The quality of the fruit in the base wines shines through to the Champagnes, resulting in rich, complex flavours with a fine balance and the personality of an individually crafted wine.
Domaine Besson, Chablis
Alain Besson is a third generation wine maker in Chablis and his family winery produces fine examples of Chablis. Alain's daughter, Camille, is now workingi in the winery and is taking responsibilty as winemaker.The average age of Alain's vines is 40 years and he cultivates his wines with great care.
Camille Besson in the winery in Chablis
His winemaking methods are traditional and but his winery is very modern with many large stainless steel tanks.
The 2012 Chablis is an outstanding wine - the freshness and acidity together with ripe fruit and great intensity make it a most enjoyable wine to drink. This is the fourth vintage of his wines that we have imported and we continue to be impressed with them.
These wines are proving very popular in clubs and restaurants throughout Melbourne.
We have limited quantities available of:
2012 Chablis
2012 Chablis 1er Cru "Montmains"
2011 Chablis 1er Cru "Mont de Milieu"
2011 Chablis Grand Cru Vaudesir
2010 Chablis Grand Cru Les Clos
2011 Chablis Grand Cru Les Clos
Maison Alex Gambal, Beaune
Alex Gambal established his own winery in Beaune in 1997. He is now in an old factory on Boulevard Jules Ferry Boulevard, part of the ring road that circles the old town of Beaune. The ancient cellars once connected to one of the large negociants across the road.
Alex is originally from the USA and he moved from the world of real estate to France to explore his passion for the wines of Burgundy. He is regarded as a rising star in Burgundy and is much admired for his respect of terroir and the care that he takes in making his wines.
Our current stock includes
Blanc


2011 Bourgogne Chardonnay
2010 Meursault "Clos du Cromin"
2011 Meursault "Clos du Cromin"
2011 Chassagne-Montrachet
2009 Puligny-Montrachet
2010 Puligny-Montrachet
2011 Puligny-Montrachet
202 Saint Aubin 1er Cru "Murgers Des Dents de Chien"
Rouge
2011 Bourgogne PInot Noir Cuvée "Les Deux Papis"
2012 Bourgogne PInot Noir Cuvée "Les Deux Papis"
2011 Chambolle-Musigny
2011 Vosne-Romanée Vieilles Vignes
2012 Vosne-Romanée Vieilles Vignes
2011 Chambolle-Musigny 1er Cru "Les Charmes"
2011 Clos Vougeot Grand Cru (sold out)
2011 Latricières-Chambertin Grand Cru
Domaine A-Chopin & Fils
The Chopin family has been established around the village of Comblanchien for many generations. Arnaud is passionate about capturing the fruit of the vine and his wines express the different terroir of each parcel.
The climat "Les Bas de Combe" is on the border of Vosne-Romanée as is the outstaning Premier Cru "Les Murgers".
Rouge
2011 Côte de Nuits Villages "Vieilles Vignes"
2012 Côte de Nuits Villages "Vieilles Vignes"
2011 Nuits-Saint-Georges "Les Bas de Combe"
20112 Nuits-Saint-Georges "Les Bas de Combe"
2010 Nuits-Saint-Georges "Les Charmottes"
2011 Nuits-Saint-Georges "Les Charmottes"
2012 Nuits-Saint-Georges "Les Charmottes"
2011 Nuits-Saint-Georges 1er Cru "Les Murgers"
2012 Nuits-Saint-Georges 1er Cru "Les Murgers"
2011 Chambolle-Musigny
2012 Chambolle-Musigny
Domaine Bachey-Legros
The Bachey family have been making wine in Santenay for 6 generations. They are located in the oldest street in the village of Santenay-le-Haut. Christiane Bachey-Legros has been managing the estate since 1993 together with her two sons, Lénaïc and Samuel.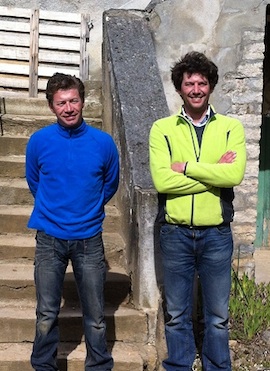 Leniac and Samuel Legros
They have some very old vines and the average age of them is 55 years. Some of the vines were planted in 1914 and remain productive.
These wines have proved to be of high quality and very popular. There are a few bottles remaining of each wine. The wines are:
Blanc
2012 Bourgogne Chardonnay
2012 Meursault "Les Grand Charrons"
2012 Chassagne-Montrachet "Les Morgeot" "Vielles Vignes"
2012 Chassagne-Montrachet " Les Boudriottes "
Rouge
2012 Maranges "Le Goty"
2012 Santenay "Clos des Hâtes" "Vieilles Vignes "
2012 Santenay 1er Cru "Clos Rousseau " Vieilles Vignes
2012 Santenay 1er Cru "La Comme" Vieilles Vignes