Maison Alex Gambal
Beaune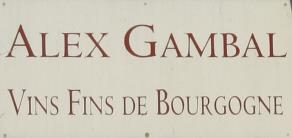 In the 1990's, Alex Gambal fell in love with the wines of Burgundy and, after completing wine school, he founded his own winery in Beaune in 1997, having moved from the East Coast of the USA.
He has emerged as a rising star in Burgundy. He recently became the first non-French person to own a parcel of the wonderful Bâtard-Montrachet Grand Cru vineyard.
His wines range from entry level Bourgogne to Grand Crus, both white and red. He takes great care with his grapes and his viticulture is meticulous.
On tasting the wines, the purity of fruit and wonderful structure impress throughout the whole range. They are a most impressive range of wines and tasting any of them will not disappoint.
White Wines
| Wine | RRP |
| --- | --- |
| 2014 Aligoté | $39.50 |
| 2013 Aligoté | $37.50 |
| 2015 Bourgogne Chardonnay | $47.50 |
| 2013 Bourgogne Chardonnay | $47.50 |
| 2012 Bourgogne Chardonnay | $47.50 |
| 2014 Saint Romain | $67.50 |
| 2013 Saint Romain | $65.00 |
| 2013 St Aubin 1er Cru "Les Murgers des Dents de Chien" | $90.00 |
| 2015 Meursault | $110.00 |
| 2014 Meursault | $110.00 |
| 2013 Meursault | $120.00 |
| 2012 Meursault | $120.00 |
| 2011 Chasagne-Montrachet | $120.00 |
| 2015 Bâtard-Montrachet | $495.00 |
Red Wines
| Wine | Price |
| --- | --- |
| 2013 Saint Romain | $55.00 |
| 2013 Savigny-lès-Beaune "Grand Picotins" | $75.00 |
| 2014 Savigny-lès-Beaune 1er Cru | $85.00 |
| 2013 Savigny-lès-Beaune 1er Cru | $85.00 |
| 2014 Beaune 1er Cru "Les Grèves" | $125.00 |
| 2012 Beaune 1er Cru "Les Grèves" | $115.00 |
| 2011 Beaune 1er Cru "Les Grèves" | $115.00 |
| 2014 Vougeot "Clos du Village" | $105.00 |
| 2013 Vougeot "Clos du Village" | $95.00 |
| 2013 Vosne-Romanée | $135.00 |
| 2015 Charmes-Chambertin | $245.00 |
| 2015 Clos Vougeot | $245.00 |