Champagne Oliver Horiot
Tasting Notes
Champagne Olivier Horiot, Les Riceys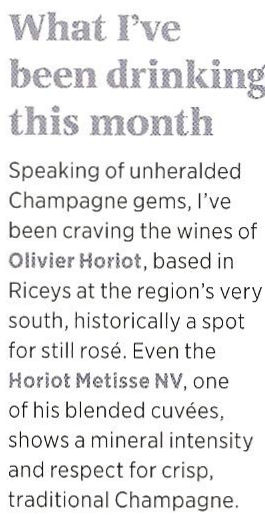 Vines have been in the Horiot family since the 1600's, but Olivier's side of the family were inn-keepers. Olivier's grandfather replanted vines post-phylloxera, so he is the third generation to subsist from viticulture. Their production was sold to the cooperative until 2000 when Olivier decided that he wanted to vinify his own wines.
The estate of 7 hectares is located in Les Riceys in the Côte des Bar, the southern region of Champagne. The soil in this region is similar to that in Chablis, clay and limestone, rather than chalk. Olivier vinifies his still wines, including the famous Rose des Riceys, and his Champagnes from approximately 2 hectares. The remainder of the grapes are sold to the cooperative and négociants. He is happy with this balance at present as it enables him to devote time to the quality of his production.
Olivier works biodynamically - he uses native yeasts and very little sulphur. However, he is not certified biodynamic as he does not his wine to be consumed for that reason alone. During a recent visit to his domaine, as we tasted about 20 of his still and base wines for Champagne from tank in his spotless winery. His attention to detail, his passion and his inquiring mind were evident. He thinks carefully about the whole winemaking process, including working in the vineyard along with his wife, Marie.
He just wants to make great wine.
Jon Bonné, Decanter, June 2015
For the first four years, Olivier concentrated on making still wines and the base wines for the Champagnes that were to come. These included wines from some of the 'forgotten' Champagne grape varieties including Pinot Blanc, Pinot Gris, Arbane and Petit Meslier, as well as the traditional Chardonnay, Pinot Noir and Pinot Meunier. In addition, he vinifies each grape variety individually from different terroirs that include 'En Barmont' and 'En Valingrain'.
Although legally allowed to use the 'forgotten' grape varieties in AOC Champagne, there are only 18 producers out of today's 15,000 that use anything other than Chardonnay, Pinot and Pinot Meunier.
Olivier produced his first Champagne in 2004. He produces four Champagnes, all with low dosages, never above 2g/l. The quality of the fruit in the base wines shines through to the Champagnes, resulting in rich, complex flavours with a fine balance and the personality of an individually crafted wine.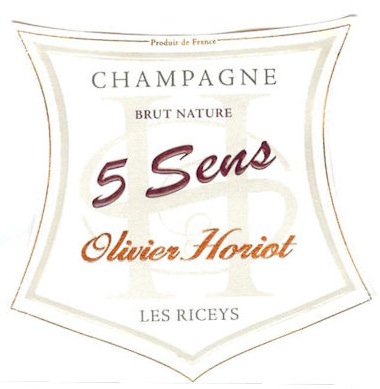 Champagnes
Cuvée "Métisse" Noirs and Blancs NV Extra Brut A blend of Pinot Noir and Pinot Blanc based on the 2011 vintage from 6 different terroirs with reserve wine added using the solera method. Dosage: 2 g/l
Cuvée "S ève" Rosé de Saignée 2008 Extra Brut Pinot Noir, an expression of the terroir of "En Barmont'. Dosage: 2 g/l
Cuvée "5 Sens" 5 Cépages 2009 Brut Nature A blend of Arbane, Pinot Blanc, Pinot Meunier, Pinot Noir and Chardonnay. Zero dosage.