2015 Guy Farge Vin de Pays de l'Ardèche "Bouquet de Syrah"
This wine is 100% Syrah and is grown on the steep slopes of the Northern Rhône. The wine is aged in large casks and is a pure expression of Syrah. The appearance is a medium ruby colour with no sign of age on the rim. The bouquet is copybook cool climate Syrah, highlighted by intense dark cherry, pepper and aniseed characters with an alluring spiciness to fill out the aromatic canvas. On the palate, there are powerful and vibrant berry fruit flavours supported by savoury bramble, cinnamon and nutmeg. . These elements are supported by a structure of fine tannins and a refreshing acidity, which result in a well-rounded and satisfying wine. This is an excellent example of cool climate Syrah and it makes n perfect accompaniment to many savoury dishes, ranging from Charcuterie to more robust chicken and meat dishes. It is a wine to be savoured during the forthcoming Melbourne winter!
2014 Guy Farge Condrieu "Grain d'Emotion"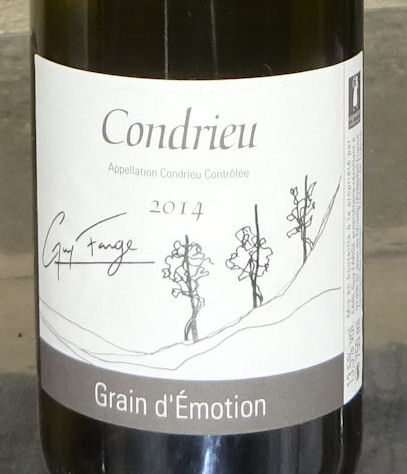 Condrieu and its grape variety, Viognier, were hardly known of in Australia until the beginning of the current millennium.
Since that time, viognier has been planted in a number of differing locations in Australia to identify the correct conditions for its enhancement.
The Guy Farge style is a superb example of the restraint and generosity that can be found in these wines.
The 2014 has a wonderful bouquet of apricot kernel, honey, white flowers, orange blossom, nutmeg and savoury pineapple.
The first feature that one notices with Condrieu is the gorgeous texture that envelops the palate and then the powerful fresh tropical fruits and decadent intensity that follows which are all supported by balancing acidity.
In the end, this wine delivers a supple, rich and attractive palate in a wine that is ready to drink now.
Super wine!